PLANOGRAMMING


Merchandising made easy

Virtual reality planograms allow you to quickly build, import and share your visual merchandising plans.

Schedule my demo
Build aisles
Establish 100% to scale aisle layouts using 3D fixtures, products, and signage in a virtual store environment. Planogramming in a virtual retail lab offers all of the same capabilities as a traditional retail lab, but without the hassles involving physical inventory or space.
Fixtures
Use virtual fixtures to efficiently plan retail space by creating aisles and displays that are easily moved or manipulated.
Products
Easily planogram aisles with virtual products that can be backfilled and upfilled with a click of the button.
Signage
Virtual signage is not inconvenienced by height or installation and can be simply attached or switched out on store ceilings and fixtures in a matter of seconds.
Wallpapers
Wallpaper images of fully stocked shelves can be used to create the illusion of a fully stocked store while focus is placed on the planogram of a specific category aisle.
JDA integration
Instead of building aisles in virtual reality, there is also the option to automatically generate planograms into the ReadySet software by JDA (Blue Yonder) .psa file upload. The JDA integration allows for instant import of planogram files into a virtual reality project so it can be further viewed, edited and evaluated.
Share planograms
Collaborate and share realistic merchandising ideations internally and with partners through providing screenshots, 360 photos or virtual tours in presenter mode.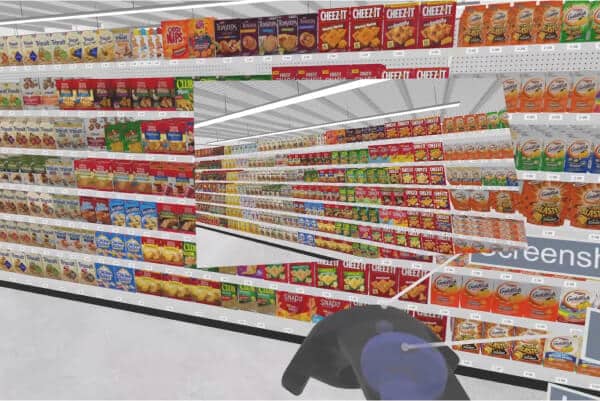 Screenshots / 360 photo viewer
The built-in 2D screenshot button and 360 photo viewer feature provide a simple way of capturing and sending planogram visuals to other merchandising collaborators.
Presenter mode
ReadySet presenter mode changes the angle of the camera from first person perspective to third person perspective for better viewing pleasure by spectators.
Get started with ReadySet
Schedule a free demo and explore the VR tools and services that can improve your business.