READYSET 3D MERCHANDISING PLANOGRAM SOFTWARE
3D visual merchandising made easy
Virtual reality planogram creation software allows category management to easily build, import and share visual merchandising plans. ReadySet provides the best virtual planogram software for retail businesses to quickly create 3D POGs that increase sales.
Build aisles
Our 3D visual planogram builder utilizes virtual retail labs with eye-level visuals that establish realistic shopping experiences. Virtual shelf planograms provide the same capabilities as traditional retail planograms but without hassling with inventory management or space planning. Efficiently build 100% to scale 3D merchandising store concepts using cloud-based fixture, product, and signage models.
Fixtures
Productively plan retail space using virtual fixtures to create aisles and displays that are easily moved or changed within the virtual planogram.
Products
Easily planogram shelf space with virtual products that can be backfilled and upfilled with a click of the button.
Signage
Virtual signage in our planogram builder eliminates height and installation barriers to offer simple attachment on store ceilings and fixtures in a matter of seconds.
Wallpapers
Wallpaper images of fully stocked shelves are used to create the illusion of a fully 3D rendered store. This allows for focus to be placed on the planogram design of a specific category aisle.
JDA integration
ReadySet 3D planogram software does not require that all aisles are built in virtual reality. It provides an option for automatically creating planograms by JDA (Blue Yonder) .psa file upload. JDA integration allows users to instantly import planogram files into a virtual retail shelf planner for further viewing, editing and evaluation.
Share planograms
Collaborate and share ideations of your merchandising plan with internal and external partners through screenshots, 360 photos or virtual tours in presenter mode.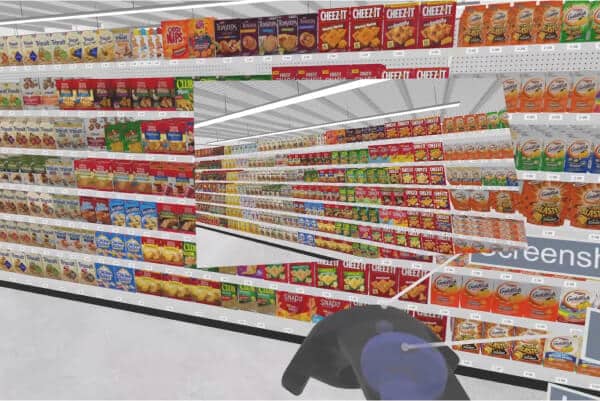 Screenshots / 360 photo viewer
The 2D screenshot button or 360 photo viewer are simple ways to capture and send virtual planogram visuals to other merchandising collaborators.
Third-person view
ReadySet third-person view alters the camera angle from first person perspective to third person perspective for better viewing pleasure during merchandising plan presentations.
3D Planogram & Merchandising FAQs
Start maximizing sales with retail planogram software
See how you can optimize merchandising and generate better sales data with the ReadySet virtual reality planogram builder.