Virtual Reality in Retail Viability


The use of virtual reality for shopper research

Virtual reality research offers incredible realism that brings out real life behaviors and generates superior data analytics.

Schedule my demo
Some virtual reality statistics to know
The global VR market is projected to grow from $6.3 billion in 2021 to $84.09 billion in 2028.
82% of companies implementing AR/VR indicate that benefits exceeded expectations.
It is expected that 58.9 million people in the US will use VR at least once per month in 2021.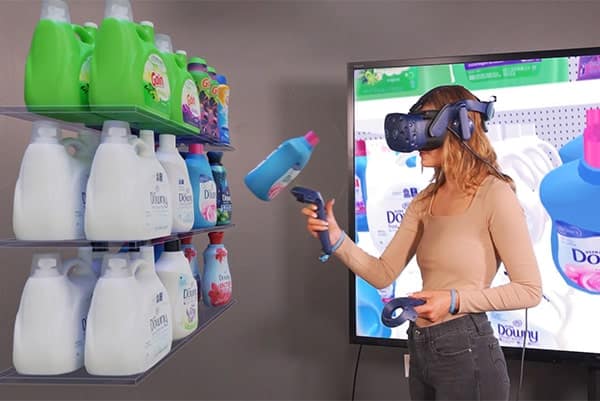 Study: Does Life-Size VR Replicate Real-World Testing
"Life-sized Virtual Reality accurately replicates shopping behavior of a real shelf. This is because the life-sized environment allows for interaction with products and real shopping behavior - bending down, walking back and forth, focusing on landmark brands."
Consumers' behavior in virtual reality (VR) and in real life
Full immersion virtual reality research accurately recreates the in-store experience for shoppers through life size environments with high-quality 4k visuals.
Individuals are able to navigate, shop and purchase in a virtual store the same as they would in a real store.
This realism has proven to elicit their natural behaviors and demonstrates virtual reality viability as a promising tool for data acquisition in customer behavior research.
The comparability of consumers' behavior in virtual reality and real life: A validation study of virtual reality based on a ranking task
This study funded by the Swiss National Science Foundation tested the applicability and validity of VR as a consumer behavior data collection tool through comparing participant behavior to the real world.
"We strongly believe that VR will be a very useful tool for conducting experiments and producing results with high ecological validity."
VR technology in business applications
Use of ar and vr in business is increasing as the technologies advance and become more accessible.
Today, many common use case scenarios include risk-free healthcare training, construction visualization, and retail innovation.
The virtual reality research lab is an incredibly useful tool for brands to cost-effectively build and test in-store retail solutions that ensure a successful implementation.
"By using the simulation at the early stages of the new product development process, firms can test a broad selection of marketing ideas in a realistic setting, and thus improve their chances of identifying breakthrough concepts that will expand their business."
Virtual Reality for Shopper Research
This report from the Marketing Science Institute explores three experiments that apply simulations to study the impact of new marketing programs. VR was used to measure shopper response to (1) the introduction of new CPG products, (2) updating the package of existing products, and (3) 30%-off price promotions.
Virtual reality (VR) accuracy of data collection & reporting
Virtual reality market research utilizes advanced VR headsets and hardware that collect incredibly accurate data on body movements and eye-tracking.
It offers insights into what gets noticed in the store and significantly supports the validation of virtual reality as a research method.
This information provides market researchers with robust analytics and heat maps to quickly uncover the end-to-end customer journey.
See the full potential of immersion VR
Learn why the retail industry is increasing adoption of virtual reality labs to improve brick and mortar customer experiences.